How Fake News Affected the 2016 Presidential Election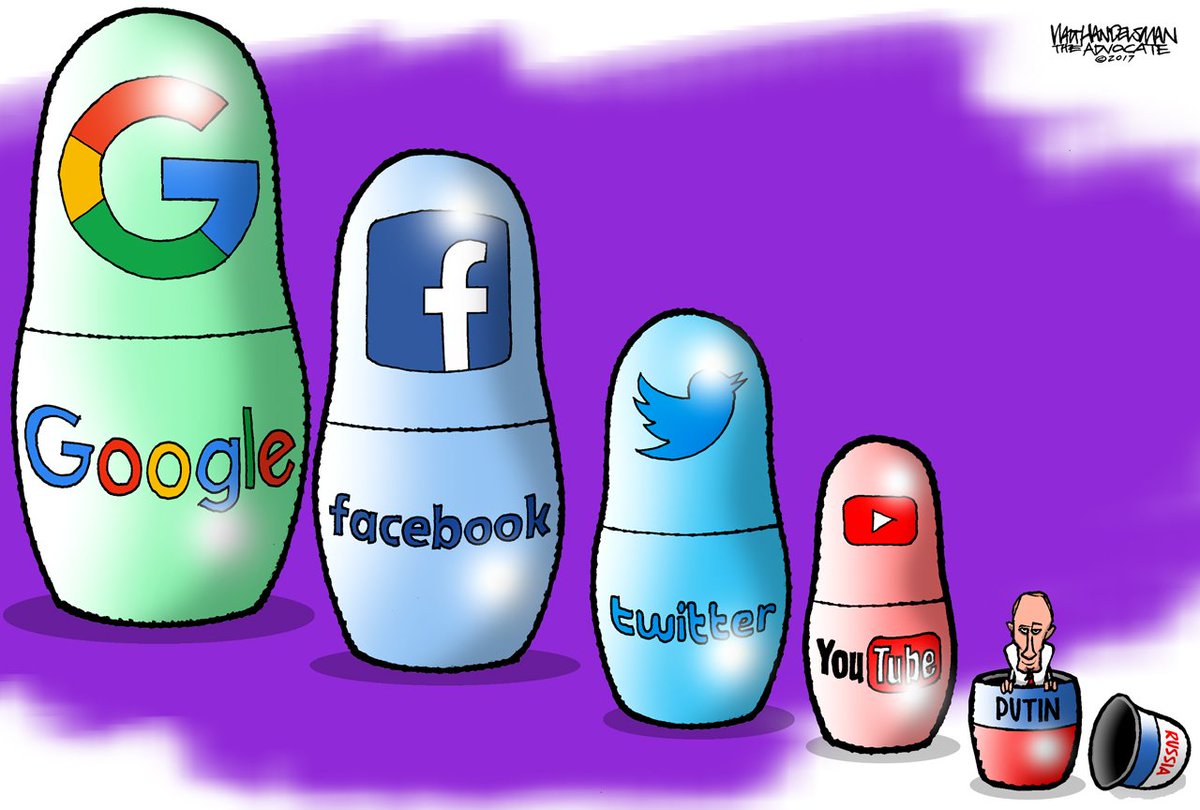 Political misinformation has the potential to change election outcomes.

"Falsehood flies, and truth comes limping after it, so that when men come to be undeceived, it is too late; the jest is over, and the tale hath had its effect." -Jonathan Swift, "The Art of Political Lying"
The potential impact of fake news on President Trump's victory in 2016 is among the most contested controversies of his presidency. Although the State Department has found proof of Russian election interference, whether or not that translated into a win for Donald Trump is still widely argued against and doubted. However, drawing on internet browsing data, archives of fact-checking websites, and results from an online survey, what research findings do show is that:
Of the known fake news stories that appeared in the three months before the election, those favoring Trump were shared a total of 30 million times on Facebook, while those favoring Clinton were shared 8 million times
Just over half of average American adults who recall seeing fake news say they believed the stories
People are much more likely to believe stories that favor their preferred candidate, especially if they are ideologically segregated within social media networks
Social media was an important but not a dominant source of election news--only 14% of Americans said social media was their "most important source"
In a 2015 Stanford University study of fake news articles and "civic online reasoning," researchers found that over 30 percent of high school students said a fake Facebook account posting comments about then-candidate Trump were more reliable because of its graphic elements.

And only 25 percent recognized the significance of the blue checkmark on Twitter and Facebook that indicates an account is legitimate. More than 80 percent of the respondents were not able to recognize that an ad was sponsored content, or native advertising, and not a news story.
Native advertising is a type of advertising that matches the form and function of the platform on which it appears.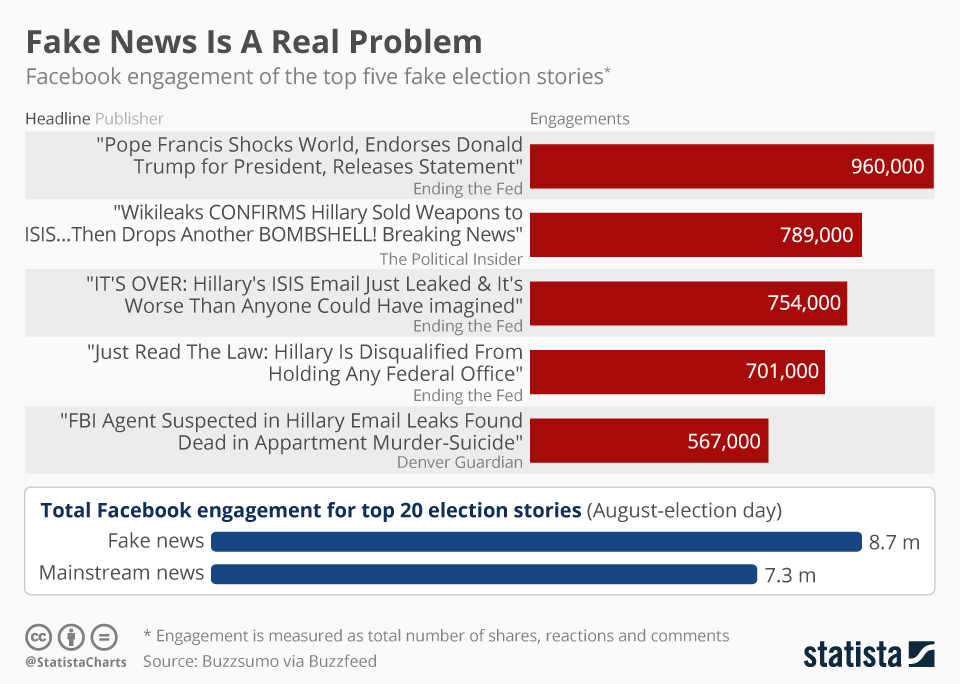 Where Did Fake News Originate?
The Mueller Report
The investigation into Russian interference in the 2016 presidential election and the final Mueller Report documents dozens of instances in which Russian actors leveraged U.S.-based social media platforms to orchestrate disinformation campaigns to influence American opinion and sow discord. The Mueller report illustrates how Putin's trolls reached millions of Americans on Facebook, were quoted in major newspapers as real Americans, and used social media to create artificial grassroots political organizations that targeted both Republicans and Democrats leading up to the 2016 election.


The IRA, or the Russian Internet Research Agency responsible for running social media operations to influence the 2016 election, began in the Spring of 2014 when it "consolidated U.S. operations within a single general department."
IRA bots mostly impersonated U.S. citizens, but by 2015 shifted their strategy to include large Facebook pages and groups that were paraded as representing U.S.-based interests and causes, included anti-immigration groups, Tea Party activists, and Black Lives Matter activists among others.
"United Muslims of America" had over 300,000 followers
"Don't Shoot Us Up" had over 250,000 followers
"Being Patriotic" had over 200,000 followers
And "Secured Borders" had over 130,000 followers
The Mueller report unearthed an internal memorandum of the IRA that presses members of the agency to "use any opportunity to criticize Hillary [Clinton] and the rest except Sanders and Trump--we support them."
The IRA purchased a total of 3,500 Facebook ads for $100,000, approximately $30 per ad. Some of the most successful IRA groups maintained hundreds of thousands of followers, which Facebook shut down after the election in August 2017.
It is estimated that 80,000 pieces of Russian troll content may have been viewed by a total of 126 million people.
The IRA successfully interacted with members of Trump's campaign on Twitter, and Trump himself. IRA bots posed as the "Unofficial Twitter of Tennessee Republicans" and earned mentions from Donald Trump Jr., Brad Parscale, and Kellyanne Conway.
In September 2017, President Trump's personal account responded to a tweet from the IRA-controlled account @l0_gop.
Special Counsel Robert Mueller notes that the IRA operated a network of automated Twitter accounts, or a bot network, that enabled the IRA to amplify existing Twitter content.
Twitter publicly identified 3,814 Russia-controlled accounts, which the platform says in the 10 weeks leading up to the election posted approximately 175,993 Tweets of which 84% were political. According to the Mueller Report, 70 U.S. news outlets were found to have quoted Russian-controlled Twitter accounts and attributed it to a real person.
A bot network is a network of cybercriminals that propagate malware, disrupt internet spaces by infecting millions of devices. Botnets can infect any device connected to the internet, such as PCs, laptops, mobile devices, smartwatches, security cameras, and home appliances. This strategy requires that users infect their own systems, such as by opening suspicious emails, clicking on malicious pop-up ads, or downloading dangerous software from a website that contains a trojan horse virus.
The IRA organized real-life events as well, including three events in New York in 2016 and various pro-Trump rallies in Florida and Pennsylvania during the summer leading up to the election.
The IRA was behind the Columbian Chemical Plant explosion hoax in September 2014 in St. Mary Parish, Louisiana. The Director of the Office of Homeland Security got a call from a resident who had just received a disturbing text message that read: "Toxic fume hazard warning in this area until 1:30 PM. Take Shelter. Check Local Media and columbiachemical.com." IRA bots doctored screenshots from CNN and created fully functional clones of websites of Louisiana TV stations and newspapers to dupe residents.
A Russian activist successfully infiltrated the IRA headquarters in St. Petersburg, Russia, where she worked undercover as a bot for two months before exposing the agency. Lyudmila Savchuck says the "factory worked 24 hours a day, seven days a week. There was a day shift, a night shift, and even shifts over the holidays. The factory worked every single second."
In late 2014, Savchuck says ads continuously appeared on her social media that were geared toward young, educated Russians looking to work in "a creative field" The average pay started at $400 a month, and Savchuck said she spent most of her time writing as an imaginary Russian woman attempting to inflame anti-American feelings on the popular Russian blogging platform, LiveJournal.
Savchuck recalls how trolls were divided into groups, and those with the best English skills posed as Americans and created accounts on Facebook and Twitter. A supervisor dispersed lists of topics to focus their efforts, which always included the United States, the European Union and Putin.
Savchuck says it is "laughable" for people to believe that Putin does not know trolls exist and that he does not direct them given that Kremlin-controlled newspapers and state TV are touting the same talking points that trolls are posting.
Savchuck leaked documents, videos and her story to an independent Russian news outlet, and was promptly threatened online by trolls and state-controlled media.
Mark Zuckerberg's Congressional Testimony
Facebook CEO Mark Zuckerberg's appearance before the Senate's Commerce and Judiciary committees was a critical test for the future of social media platforms that skeptical lawmakers say need tougher regulations to prevent the proliferation of fake-news and interference in domestic matters by foreign adversaries. Lawmakers grilled the 33-year-old executive on the revelation that Cambridge Analytica, a political consulting firm linked to the Trump campaign, harvested data from 87 million Facebook users to profile voters and sway the 2016 election.
The hearing left many lawmakers unsatisfied and did not result in government oversight of social media platforms. But Zuckerberg said Facebook would be "investigating many apps, tens of thousands of app, and if we find suspicious activity, we're going to conduct a full audit of those apps to understand how their using their data and if they're doing anything improper..we'll ban them from Facebook and we will tell everyone affected."
Zuckerberg admitted the company's failure to stop Russian bots was one of his greatest regrets. He said Facebook tracked known Russian hacking groups in real time but that it took much longer to nail inflammatory posts by the IRA. Facebook later deployed artificial intelligence tools to detect malicious activity in elections in France, Italy, and a Senate race in Alabama.
In closing, Zuckerberg said "There are people in Russia whose job is to exploit our systems. This is an arms race." But the Cambridge Analytica debacle underscored how Facebook can be used for nefarious reasons, and how the tools social media platforms create can be exploited to manipulate users' information.
In May 2017, Facebook announced plans to hire 3,000 content reviewers.
Fake News Masterpiece
Fake news can spread quickly, especially fake news that confirms what people want to be true. In a stark example of the virality of fake news, "Fake News Masterpiece," created by Cameron Harris, generated over $20,000 in ad revenue. Harris fabricated a story about an electrical worker finding pre-filled ballots for Hillary Clinton in the 2016 presidential election. This story took off, in part, due to the accusations by then-candidate Trump that the election would be rigged against him. This story took off, in part due to the accusations by then-candidate Trump that the election would be rigged against him. Hear more about Cameron's story in this clip:
Learn how to spot a fake on our Protect Yourself page!
//Written by: Christina Georgacopoulos, Grayce Mores