NewsGuard - The Internet Trust Tool
Download "The Internet Trust Tool" NewsGuard, a browser extension and iOS/Android app that rates news sites on their credibility and transparency. NewsGuard is an invaluable tool for spotting fake or misleading news posted on social media and in internet searches.
How it Works
NewsGuard uses a "Nutrition Label" system to rate news sources based on a common set of standards for journalistic credibility and transparency. After downloading NewsGuard, news sites and posts show a shield icon representing the reliability of the source.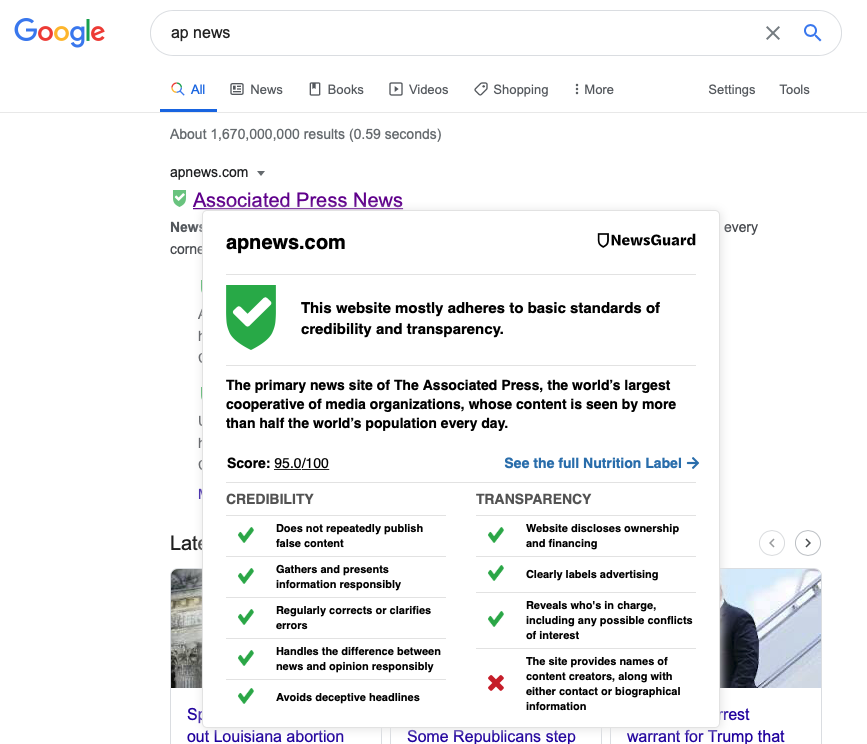 A Google search of AP News shows that they receive a green check mark because of their credibility score of 95.0/100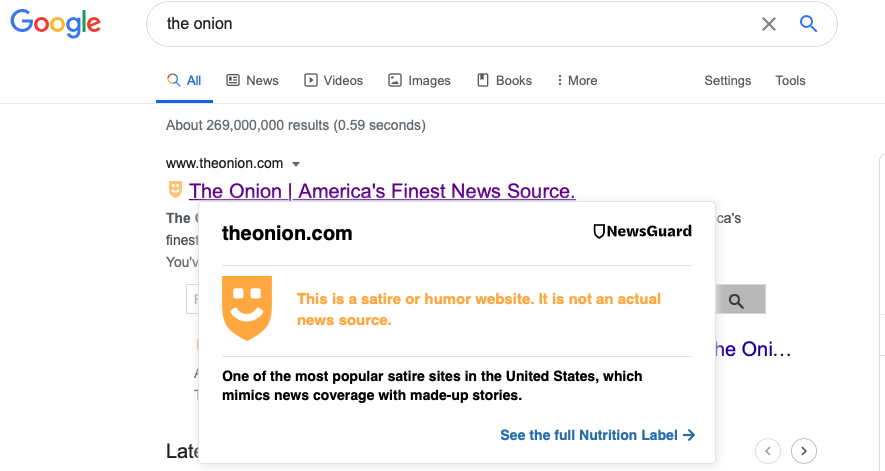 A Google search of The Onion, a popular satirical news site, shows a yellow smiley face, indicating it is not a serious news source.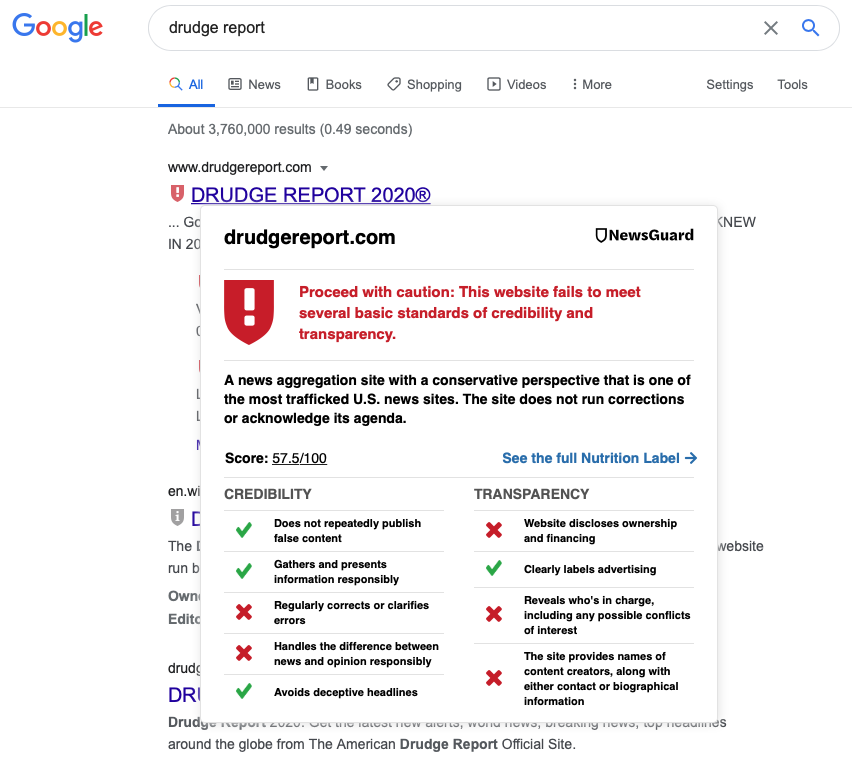 A Google search of Drudge Report, a news aggregation site that does not run corrections or acknowledge its agenda, shows a failing exclamation point, indicating it does not meet NewsGuard's standards of credibility.
Not all sites rated green are equal. Be sure to scroll over the NewsGuard rating to get a closer look at how the news source meets the criteria. NewsGuard posts full reports on each site they review, explaining their reasoning behind each rating.
NewsGuard also works on links to news articles posted on social media sites like Facebook and Twitter.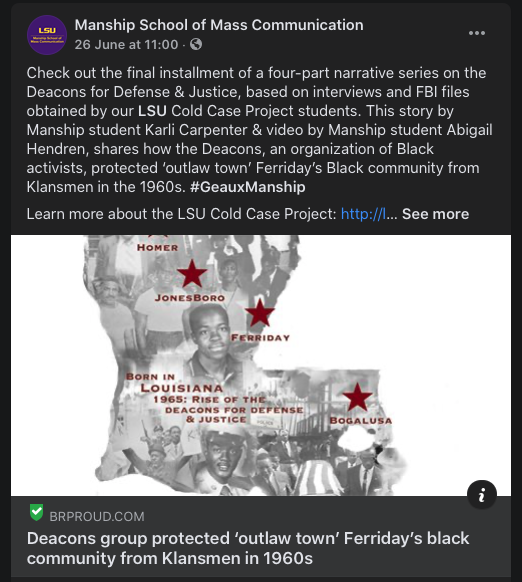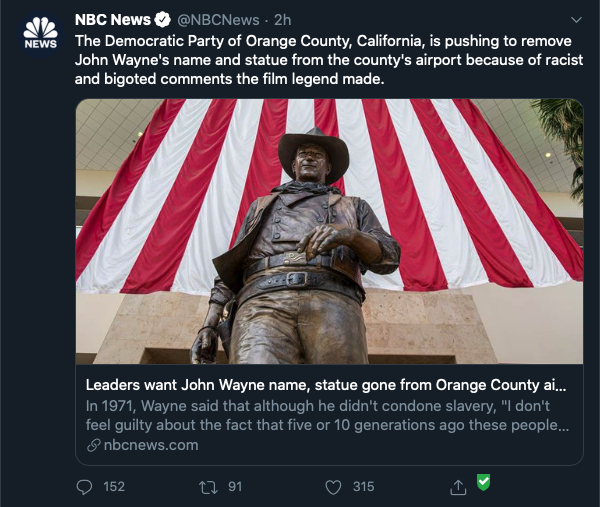 Nutrition Labels
NewsGuard's experienced journalists analyze news sources for the following standards of credibility and transparency:
Doesn't repeatedly publish false content
Gathers and presents information responsibly
Regularly corrects or clarifies errors
Handles the differences between news and opinion responsibly
Avoids deceptive headlines
Website discloses ownership and financing
Clearly labels advertising
Reveals who's in charge, including possible conflicts of interest
The site provides the names of content creators, along with either contact or biographical information
For more information on NewsGuard's rating process, visit their website.
Misinformation Monitor and 24/7 News Monitoring
The NewsGuard team releases a monthly newsletter that monitors fake news stories and trends, recently featuring reports on COVID-19 misinformation, "paid protesters" conspiracies, and social media "super-spreaders." NewsGuard has a team of journalists who monitor trending stories 24/7 to provide fast, accurate Nutrition Label ratings.
NewsGuard has created a COVID-19 Misinformation Tracking Center that reports on fake news, rumors and bad actors related to the Coronavirus Pandemic.
Why We Support NewsGuard
The team at Detect Fake News believes every digital citizen should practice media literacy. NewsGuard is an easy tool that engages its users to think about the credibility of information they view online. Their Nutrition Labels and ratings provide a quick and convenient analysis of online news sources in internet searches and social media posts. The Misinformation Monitor provides a summary and analysis of recent fake news to warn digital consumers and keep up with the ever-evolving issue of misinformation. NewsGuard's mission is in line with that of Detect Fake News, which is to teach news literacy and avoid the spread of fake news and misinformation.
Written by Grayce Mores