Foreign & Domestic Information Warefare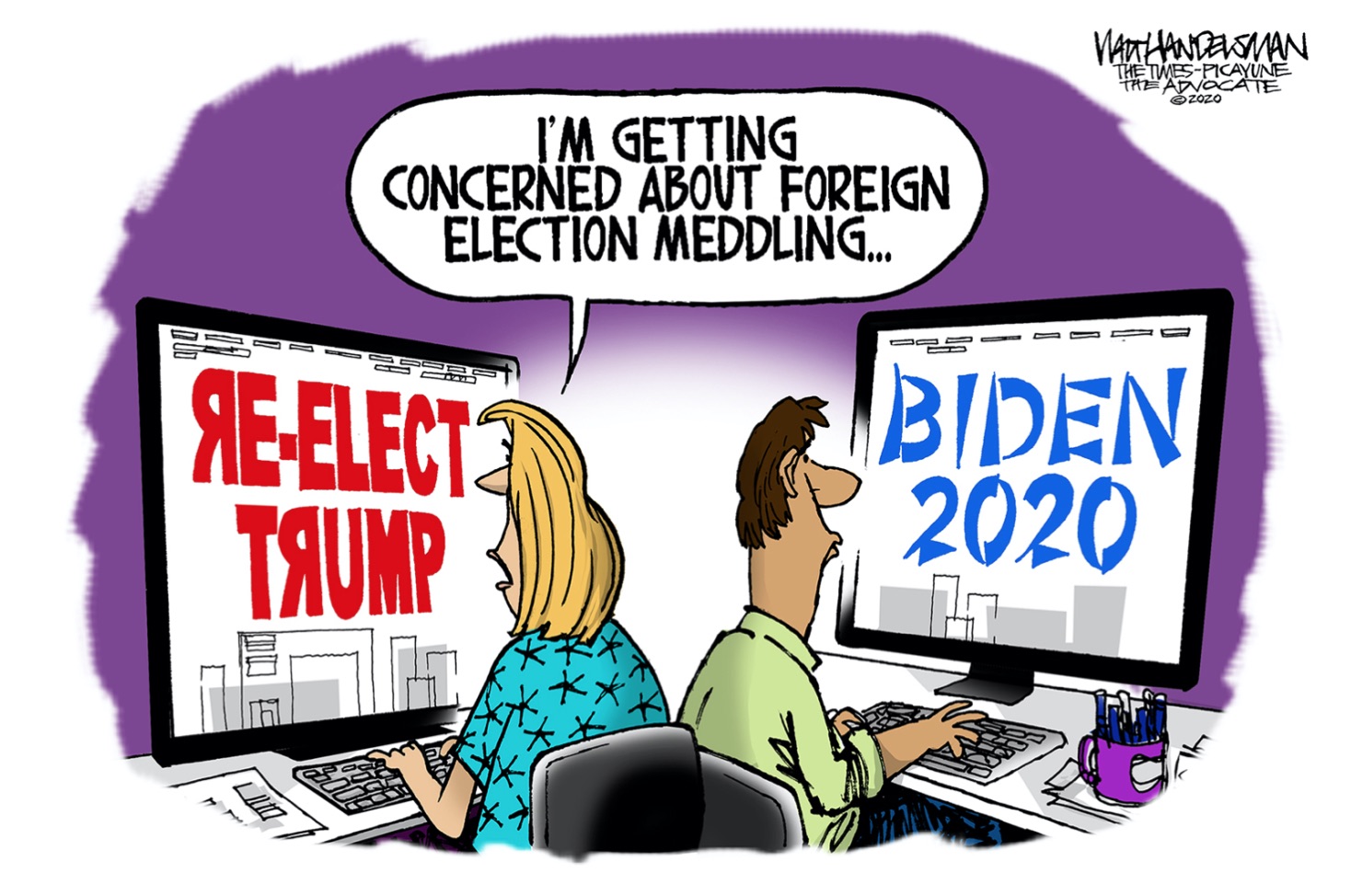 U.S. Adversaries are using similar, yet refined methods they used in 2016 to confuse voters and amplify fake news
A series of recent Twitter hacks and warnings from top U.S. officials have cast doubt on whether social media and tech companies can protect users from coordinated disinformation campaigns and hackers -- similar but more refined, information weaponry foreign adversaries used in 2016.
The director of the National Counterintelligence and Security Center (NCSC), William Evanina, confirmed that foreign entities are actively seeking to compromise private communications of "U.S. political campaigns, candidates and other political targets," and that the NCSC is keeping tabs on foreign and domestic threats to U.S. election infrastructure.
Evanina said in a press release, however, that "the diversity of election systems among the various states, multiple checks and redundancies in those systems, and post-election auditing make it extraordinarily difficult for foreign adversaries to broadly disrupt or change vote tallies without detection."
President Trump continues to push a theory that expanding vote-by-mail will lead to widespread voter fraud, which he used as a basis to advance -- and quickly withdraw -- a proposal for postponing the presidential election.
But government officials are more concerned about Russian disinformation campaigns and possible vulnerabilities in the social media accounts belonging to important figures.
Former Vice President Joe Biden's campaign team announced that it faced multiple security threats, but did not provide specifics for fear of providing adversaries useful intelligence. The Biden campaign said, however, it was concerned that pro-Russian sources shared disinformation about Biden's family with President Trump's campaign and Republican allies in Congress.
The Biden campaign said it hired top cybersecurity officials in early July to address potential security threats and "enhance the overall efficiency and security of the entire campaign."
At least one Ukranian national told the Washington Post he had shared tapes and transcripts with Republican Senator Ron Johnson's Senate Homeland Security Committee and with Trump ally, Rudy Giuliani. House Democrats subpoenaed Secretary of State Mike Pompeo for documents pertaining to Hunter Biden that he turned over to Republicans on Johnson's committee during their investigation into Hunter Biden, Joe Biden's son.
Democrats accuse Pompeo of using State Department resources to advance a "political smear campaign" against the Bidens. "It does a disservice to our election security efforts when Democrats use the threat of Russian disinformation as a weapon to cast doubt on investigations they don't like," a Johnson spokesperson said.
In the same press release, Director Evanina stated "the coronavirus pandemic and recent protests...continue to serve as fodder for foreign influence and disinformation efforts in America." Declassified U.S. intelligence shows that Russian military intelligence used its connections with the Russian government information center, InfoRos, and other websites to push disinformation about the coronavirus pandemic, such as amplifying false arguments used by the Chinese government that claim the virus was created by the U.S. military.
The strategy is similar to 2016: Russian bots employed by the Internet Research Agency, a private Russian group with Kremlin affiliations, and other Russia-backed groups, used fake social media accounts to amplify disinformation and pro-Russian propaganda.
This time around, however, the fake news articles appear on websites that seem legitimate, which ultimately make it more difficult for American users to recognize.
U.S. officials are primarily concerned with Chinese, Russian and Iranian operatives, who continue to use influential measures in social and traditional media "to sway U.S. voters' preferences and perspectives, to shift U.S. policies, to increase discord and to undermine confidence in our democratic process."
The concerns were outlined by Evanina in a statement issued by the NCSC: "China is expanding its influence efforts to shape the policy environment in the United States, pressures political figures it views as opposed to China's interests, and counter criticism of China," the NCSC said. "Beijing recognizes its efforts might affect the presidential race."
Russia's persistent objective is to weaken the United States and diminish our global role. Using a range of efforts, including internet bots and other proxies, Russia continues to spread disinformation in the U.S. that is designed to undermine confidence in our democratic process and denigrate what it sees as an anti-Russia "establishment" in America.
Iran seeks to undermine U.S. democratic institutions and divide the country in advance of the presidential election. Iran's efforts center around online influence, such as spreading disinformation on social media and recirculating anti-U.S. content.
THE GREAT TWITTER HACK

A 17-year-old Florida teenager was charged as the "mastermind" of a massive Twitter hack that targeted the accounts of important people, including Bill Gates, Joe Biden, Barack Obama, Kanye West and Elon Musk. The embarrassing incident for Twitter called into question its ability to protect high-profile figures and political campaigns from foreign, and domestic, adversaries.
The hack was used to promote a bitcoin scam, which asked Twitter users to send bitcoin to a specific cryptocurrency wallet with the promise that the Twitter user would receive double their money back. Within minutes 320 transactions occurred, and $110,000 worth of bitcoin was deposited into the hacker's account.
Coinbase, a cryptocurrency exchange, prevented nearly 1,000 bitcoin users from sending $220,000 worth of bitcoin to the hackers account once the scam was discovered. The "mastermind," Graham Ivan Clark, faces 30 felony charges from the hack, including wire fraud, money laundering, identity theft, and unauthorized computer access, and is being charged as an adult.
The hackers targeted Twitter employees and administrative tools, which allowed them to change many account-level settings, including changing passwords and posting Tweets. By the time Twitter finally managed to stop the attack, the hackers had tweeted from 45 of the accounts they had broken into, gained access to the direct messages of 36 accounts, and downloaded full information from seven accounts.
While Clark was charged as a minor by state law enforcement officials, federal authorities were already tracking Clark's online activity before the Twitter hack, according to legal documents. In April, the Secret Service seized over $700,000 worth of bitcoin from him, but it was unclear why.
Read more about how Twitter and Facebook are protecting users during the 2020 election.
//Page written by: Christina Georgacopoulos