Misinformation and Disinformation
By Christina Georgacopoulos and Grayce Mores | July 2020
Fake news, made-up stories and just pure fiction masquerading as news has a long history in American politics. During periods of conflict, fake news has ebbed and flowed often aimed at influencing opinion and voting behavior. Social media, digital technology, resurgent populist movements and severe polarization in our politics have energized a new wave of fake news designed to confuse, frighten or shape certain behavior in American elections and in our society more generally.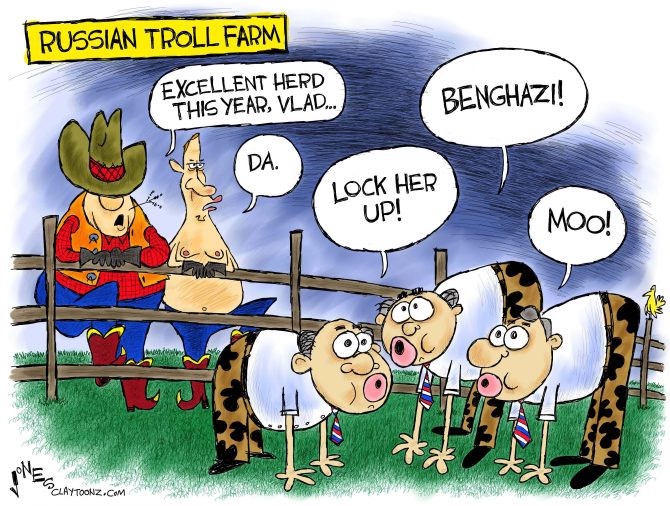 Image source: claytoonz.com
Seven Signs of Misinformation and Disinformation
The term fake news is routinely used incorrectly to describe news reporting that someone disagrees with. But there are important distinctions to be made about the various types of disinformation, the agents and motives behind disinformation campaigns, and the formats in which disinformation appears. Misinformation is false information that is disseminated by someone who believes it to be true. Disinformation is the intentional dissemination of false information. And mal-information is information based in reality, but is used to inflict harm on a person or organization. The following are seven common forms of mis- and disinformation.
The masterminds who produce disinformation are often different from the agents who disseminate it. Once a message is distributed, it can be reproduced, repurposed, and redistributed by many different actors with different motivations.
The different forms of propaganda illustrate the different motives of disinformation agents:
Agents who create white propaganda do not disguise their identities. State sponsored information campaigns, such as in North Korea, are considered white propaganda.
Agents who create grey propaganda do not reveal their identities. This includes anonymous internet trolls and other anonymous online personas.
Agents who create black propaganda give the impression that the propaganda messages they create were made by those they appear to discredit. Black propagandists often weave fact and fiction together in a way that make their messages appear credible and legitimate.
Judge An Argument For Yourself
Fake news stories manipulate the presentation of facts in order to elicit emotional reactions or cause readers to rely on faulty, biased thought processes. Individual media users are the first line of defense against fake news. The ability to recognize the logical structure of an argument can help media users judge the credibility and truth of news stories.
Fallacies are common errors in reasoning that undermine the logic of an argument, and are often deployed by persuasive orators to mislead or distract audiences. Fallacies can be entirely illegitimate arguments, or just irrelevant points. Weak arguments that rely on logical fallacies usually have no evidence to support their claims.
Source: Purdue Writing Lab
For more resources on misinformation and disinformation visit our resources page.