Wind Tunnel Testing
The need for an artificial wind was early stated in Smeaton (1759), in a trial to test windmill sails when it was recognized that wind conditions are uncertain. Wind tunnels were developed during the late 1800's to plan and execute the testing required to aid in man's quest to fly. One of the early documented wind tunnels is the one built by the Wright brothers at the end of 1901 for flight tests of their 1900 and 1901 gliders. The wind tunnel was a simple open-loop design with a fan pushing a flow of air through an enclosed square box and then exiting out (NASA, 2013).

Schematic of an open-loop wind tunnel: a fan is usually located at the exit of the test section, not to generate undesired turbulence in the flow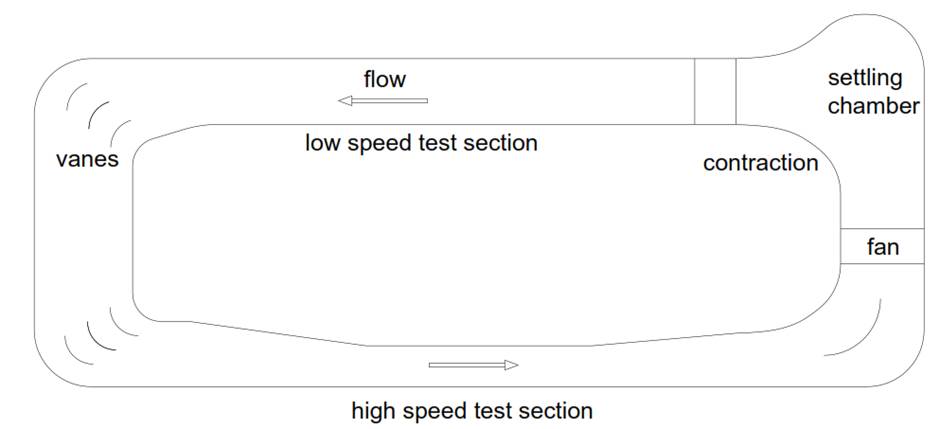 Schematic of a closed-loop wind tunnel: closed loop wind tunnels usually have at least two sections
The main concept of a wind tunnel testing is to blow air on a test model at various wind direction angles. The test model is usually placed on a turn table to quickly allow for wind direction change. When the objective is to simulate the lower part of the atmospheric boundary layer (up to several hundred meters from the surface of the earth), the wind tunnel is called a Boundary Layer Wind Tunnel (BLWT). BLWTs are usually classified as open-loop or closed-loop systems. An open-loop wind tunnel has the inflow and the outflow disconnected which is not economical from energy perspective. On the other hand, closed-loop wind tunnels save energy by recirculating the air flow. Special vanes are used to turn the airflow around the corners of the tunnel while minimizing turbulence and power loss, to reduce running costs. Straight-line types of wind have been fairly modeled in BLWTs. Using passive and active flow management mechanisms, different types of atmospheric boundary layer profiles can be produced using well established methods, as well as recently modified methodology.
Significant savings in cost of the construction of an infrastructure can be achieved by doing a wind tunnel study in the preliminary design stages, especially when the infrastructure is located in a hurricane active area or will be subjected to moderate and/or high winds during its expected lifespan. The location of a construction project in an unusual terrain or surrounding structures makes wind tunnel testing an important step to optimize cost efficiencies, generate accurate results to enhance safety, and to allow for maximum design freedom. Wind tunnels are useful for: investigation of wind impact studies on structures (buildings, bridges, towers, energy infrastructure, solar panels, wind turbines, power transmission lines and towers, etc.), wind comfort studies near buildings, effects of wind on the ventilation system in a building, wind climate for wind energy, air pollution dispersion, internal pressure studies, cross wind effects on vehicles, wind effects on sailing yachts, cables aerodynamics, etc.
Selected Publications
Aly, A.M. (2014), "Atmospheric boundary-layer simulation for the built environment: past, present and future," Building and Environment, 75, 206-221.
NASA, (2013), https://www.grc.nasa.gov, webage visited in October.
Smeaton, J. (1759). On the Construction and Effects of Windmill Sails. The Philosophical Transactions of the Royal Society, 51.