Large and Full-Scale Open-Jet Testing
The open-jet facility allows for testing at high wind speeds. Blockage effects are usually minimized by using the open jet concept. The facility is suitable for large- and full-scale testing that permits the determination of aerodynamic loads by eliminating scaling requirements and Reynolds number.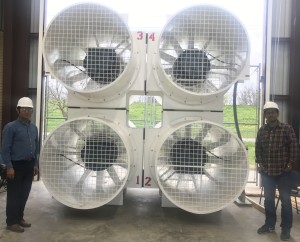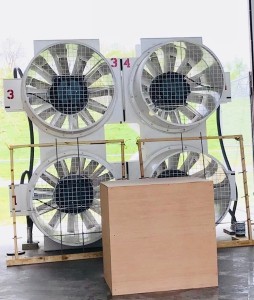 Open-Jet Simulations: large open-jet hurricane testing facility at LSU (part of a WRW simulator).
Selected Publications
Aly, A.M., da Fonseca Yousef, N. (2021), "High Reynolds number aerodynamic testing of a roof with parapet," Engineering Structures 234, 1120061. https://doi.org/10.1016/j.engstruct.2021.112006
Aly Mousaad Aly, Faiaz Khaled, Hamzeh Gol-Zaroudi. Aerodynamics of Low-Rise Buildings: Challenges and Recent Advances in Experimental and Computational Methods. Aerodynamics, Accepted, InTech, 2020.
Aly, A.M., Gol Zaroudi (2017), "Atmospheric Boundary Layer Simulation in a new Open-Jet Facility at LSU: CFD and Experimental Investigations," Measurement, 110, 121-133
Gol Zaroudi, H., Aly, A.M. (2017), "Open-jet boundary-layer processes for aerodynamic testing of low-rise buildings," Wind and Structures, 25(3), 233-259. doi: 10.12989/was.2017.25.3.233
Aly, A.M. (2014), "Atmospheric boundary-layer simulation for the built environment: past, present and future," Building and Environment, 75, 206-221.
Aly, A.M. et al. "Wind loading on trees integrated with a building envelope," Wind and Structures, 17(1), 69-85, 2013.