Scale Effects
Most boundary-layer wind tunnels(BLWTs) were built for testing models of large civil engineering structures that have geometric scales ranging from 1:500 to 1:100. However, producing aerodynamic models of solar panels at such scales makes the modules too small, resulting in at least two technical problems. First, the resolution of pressure data on such small models becomes low. Second, the test model may be placed in the lower portion of the boundary-layer that it is not a true representative of a real world scenario, due to high uncertainty in wind velocity. To alleviate these problems, development of a standardized testing protocol is very important. Such protocol should account for different time and geometric scales to design appropriate wind tunnel experiments that can allow accurate assessment of wind loads on the solar panels. This research systematically investigates the sensitivity of wind loads to testing ground-mounted solar panels, both experimentally (in a BLWT) and numerically (by computational fluid dynamics (CFD), at different geometric scales. While mean loads are not significantly affected by the model size, peak loads are sensitive to both the geometric scale and the spectral content of the test flow. However, when the objective is to predict 3-s (three seconds) peak loads, large models can be tested in a flow that has reduced high-frequency turbulence.
Our findings suggest a location of the test building, different from existing guidelines, and the inflow boundary proximity influences pressure correlation and reproduction of peak loads. The CFD LES results are compared to corresponding pressures from open jet, full scale, wind tunnel, and the ASCE 7-10 standard for roof Component & Cladding design. The CFD LES shows its adequacy to produce peak pressures/loads on buildings, in agreement with field pressures, due to its capabilities of reproducing the spectral contents of the inflow at 1:1 scale.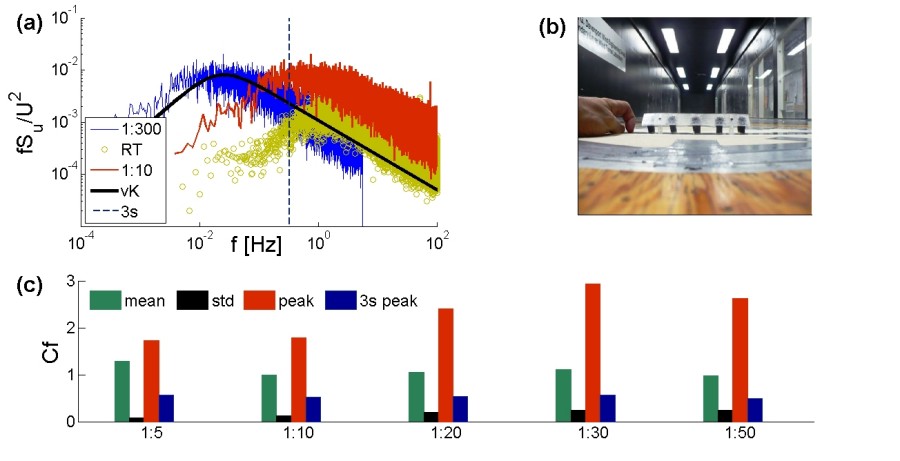 Selected Publications
Aly, A.M., Gol Zaroudi, H. (2020), "Peak pressures on low rise buildings: CFD with LES versus full scale and wind tunnel measurements," Wind and Structures, 30(1), 99-117. DOI: https://doi.org/10.12989/was.2020.30.1.099
Aly, A.M., Gol Zaroudi (2017), "Atmospheric Boundary Layer Simulation in a new Open-Jet Facility at LSU: CFD and Experimental Investigations," Measurement, 110, 121-133
Gol Zaroudi, H., Aly, A.M. (2017), "Open-jet boundary-layer processes for aerodynamic testing of low-rise buildings," Wind and Structures, 25(3), 233-259. doi: 10.12989/was.2017.25.3.233
Aly, A.M. "Atmospheric boundary-layer simulation for the built environment: past, present and future," Building and Environment, 75, 206-221, 2014.