Publications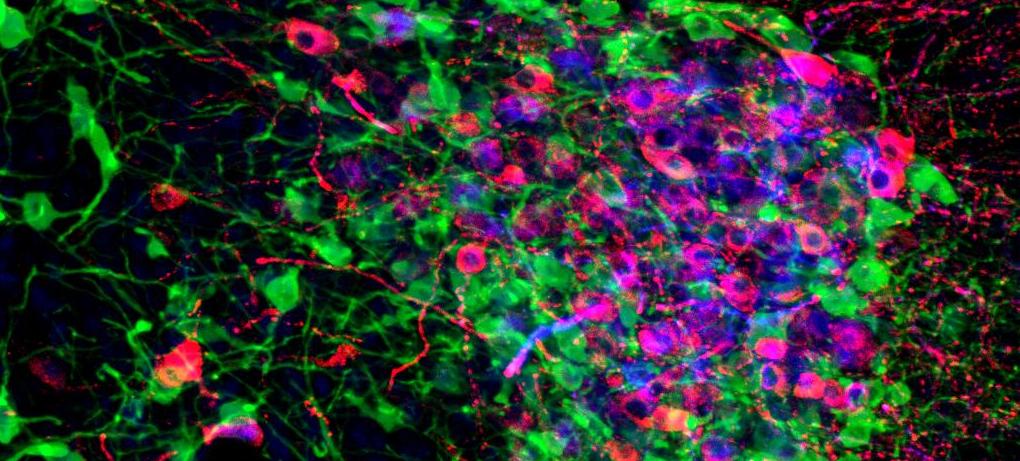 Horiai, M., A. Otsuka, S. Hidema, Y. Hiraoka, R. Hayashi, S. Miyazaki, T. Furuse, H. Mizukami, R. Teruyama, M. Tamura, H. Bito, Y. Maejima, K. Shimomura and K. Nishimori (2020). "Targeting oxytocin receptor (Oxtr)-expressing neurons in the lateral septum to restore social novelty in autism spectrum disorder mouse models." Sci Rep 10(1): 22173
Tasker JG, Prager-Khoutorsky M, Teruyama R, Lemos JR, Amstrong WE (2020) Advances in the neurophysiology of magnocellular neuroendocrine cells. J Neuroendocrinol:e12826.
Picardo MCD, Sugimura YK, Dorst KE, Kallurkar PS, Akins VT, Ma X, Teruyama R, Guinamard R, Kam K, Saha MS, Del Negro CA (2019) Trpm4 ion channels in pre-Botzinger complex interneurons are essential for breathing motor pattern but not rhythm. PLoS Biol 17:e2006094.
Mills NJ, Sharma K, Huang K**, Teruyama R* (2018) Effect of dietary salt intake on epithelial Na(+) channels (ENaCs) in the hypothalamus of Dahl salt-sensitive rats. Physiol Rep (PDF)
Frey WD, Sharma K, Cain TL, Nishimori K, Teruyama R, Kim J* (2018) Oxytocin receptor is regulated by Peg3. PLoS One 13:e0202476.
Bretz CL, Frey WD, Teruyama R, Kim J* (2018) Allele and dosage specificity of the Peg3 imprinted domain. PLoS One 13:e0197069.
Sharma K, Haque M, Guidry R**, Ueta Y, Teruyama R* (2017) Effect of dietary salt intake on epithelial Na+ channels (ENaC) in vasopressin magnocellular neurosecretory neurons in the rat supraoptic nucleus. J Physiol 595:5857-5874 (PDF).
Haque M, Wilson R**, Sharma K, Mills NJ, Teruyama R* (2015) Localisation of 11beta-Hydroxysteroid Dehydrogenase Type 2 in Mineralocorticoid Receptor Expressing Magnocellular Neurosecretory Neurones of the Rat Supraoptic and Paraventricular Nuclei. J Neuroendocrinol 27:835-849 (PDF).
Teruyama, R. (2014). Function and Localization of Epithelial Sodium Channels in Vasopressin and Oxytocin Neurons. In W.E. Armstrong and J.G. Tasker (Eds.) Neurophysiology of Neuroendocrine Neurons (pp105-134). Hoboken, NJ, Wiley, December 2014.
Perera BP, Teruyama R, Kim J* (2015) Yy1 Gene Dosage Effect and Bi-Allelic Expression of Peg3. PLoS ONE 10:e0119493.
Sakuraba M, Murata J*, Teruyama R, Kamiya K, Yamaguchi J, Okano H, Uchiyama Y, Ikeda K (2014) Spatiotemporal expression of TRPM4 in the mouse cochlea. J Neurosci Res 92:1409-1418.
Kim J*, Frey WD, He H, Kim H, Ekram MB, Bakshi A, Faisal M, Perera BP, Ye A, Teruyama R (2013) Peg3 mutational effects on reproduction and placenta-specific gene families. PLoS ONE 8:e83359.
Teruyama R*, Sakuraba M, Wilson LL, Wandrey NE, Armstrong WE (2012) Epithelial Na(+) sodium channels in magnocellular cells of the rat supraoptic and paraventricular nuclei. American journal of physiology Endocrinology and metabolism 302:E273-285 (PDF).
Haam J, Popescu IR, Morton LA, Halmos KC, Teruyama R, Ueta Y, Tasker JG* (2012) GABA is excitatory in adult vasopressinergic neuroendocrine cells. The Journal of neuroscience : the official journal of the Society for Neuroscience 32:572-582.
Scroggs R, Wang L, Teruyama R, Armstrong WE (2012) Variation in Sodium Current Amplitude Between Vasopressin and Oxytocin Hypothalamic Supraoptic Neurons. Journal of neurophysiology.
Teruyama R*, Sakuraba M, Kurotaki H, Armstrong WE (2011) Transient receptor potential channel m4 and m5 in magnocellular cells in rat supraoptic and paraventricular nuclei. Journal of neuroendocrinology 23:1204-1213 (PDF).
Del Negro CA, Hayes JA, Pace RW, Brush BR, Teruyama R, Feldman JL (2010) Synaptically activated burst-generating conductances may underlie a group-pacemaker mechanism for respiratory rhythm generation in mammals. Progress in brain research 187:111-136.