Book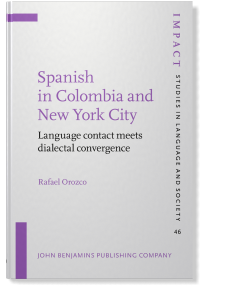 Orozco, R. 2018. Spanish in Colombia and New York City: Language Contact Meets Dialectal Convergence. Amsterdam and Philadelphia: John Benjamins.
Carvalho, Ana, Rafael Orozco & Naomi Lapidus Shin (eds.) 2015. Subject Pronoun Expression in Spanish: A Cross-dialectal Perspective. Washington, DC: Georgetown University Press.
Orozco, Rafael (ed.). 2014. New Directions in Hispanic Linguistics. Cambridge Scholars Publishing.
Richard File Muriel &Rafael Orozco (eds.). 2012.Colombian Varieties of Spanish. Madrid: Iberoamericana Vervuet.
Alejandro Cortazar & Rafael Orozco (eds.). 2011. Lenguaje, arte y revoluciones ayer y hoy: New approaches to Hispanic Linguistic, Literary, and Cultural Studies. Cambridge Scholars Publishing.