Home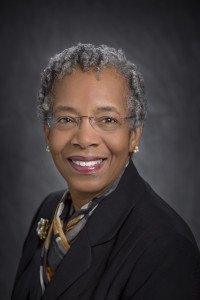 Saundra McGuire
Emerita Professor – Chemical Education
Bachelor's Degree(s):
Southern University, 1970
PhD: University of Tennessee- Knoxville, 1983
Phone: (225) 578-6749
Fax: (225) 578-2696
E-mail: smcgui1@lsu.edu
Office: 433 Choppin Hall
Area of Interest
My interest has been in improving student learning by teaching students metacognitive learning strategies. I work actively with university faculty and students to increase their understanding of the application of cognitive science and learning theory to increasing student academic performance. My current interests include improving learning strategies used by university students, reform of pre-college and college teaching methods, and increasing the number of underrepresented minority and women students who are interested in and prepared to pursue careers in science, technology, engineering, and mathematics.
Biography
Dr. Saundra Yancy McGuire is the Director Emerita of the Center for Academic Success and retired Assistant Vice Chancellor and Professor of Chemistry at LSU. Prior to joining LSU, she spent eleven years at Cornell University, where she received the coveted Clark Distinguished Teaching Award. She has delivered keynote addresses or presented workshops at over 400 institutions in 46 states and ten countries. Her book, Teach Students How to Learn: Strategies You Can Incorporate into Any Course to Improve Student Metacognition, Study Skills, and Motivation, was released in October 2015 and is a Stylus Publishing bestseller. The student version of this book, Teach Yourself How to Learn: Strategies You Can Use to Ace Any Course at Any Level, was released in January 2018.
The most recent of her honors include the 2017 American Chemical Society (ACS) Award for Encouraging Disadvantaged Students to Pursue Careers in the Chemical Sciences and induction into the LSU College of Science Hall of Distinction. She also received the 2015 American Association for the Advancement of Science (AAAS) Lifetime Mentor Award and the 2014 Lifetime Achievement Award from the National Organization for the Professional Advancement of Black Chemists and Chemical Engineers (NOBCChE). She is an elected Fellow of the ACS, AAAS, and Council of Learning Assistance and Developmental Education Associations (CLADEA). In November 2007 the Presidential Award for Excellence in Science, Mathematics, and Engineering Mentoring was presented to her in a White House Oval Office Ceremony. Additionally, she has achieved Level Four Lifetime Learning Center Leadership Certification through the National College Learning Center Association (NCLCA).
She received her B.S. degree, magna cum laude, from Southern University in Baton Rouge, LA, her Master's degree from Cornell and her Ph.D. from the University of Tennessee at Knoxville, where she received the Chancellor's Citation for Exceptional Professional Promise. She is married to Dr. Stephen C. McGuire, a professor of physics at Southern. They are the parents of Dr. Carla McGuire Davis and Dr. Stephanie McGuire, and the doting grandparents of Joshua, Ruth, Daniel, and Joseph Davis.
Awards and Honors
2019 Suanne Davis Roueche Distinguished Lecturer Award, National Institute for Staff and Organizational Development (NISOD)

2019 Commitment to Excellence in Academic Support Award, American College Personnel Association (ACPA)

2017 American Chemical Society (ACS) Award for Encouraging Disadvantaged Students into Careers in the Chemical Sciences

2017 LSU College of Science Hall of Distinction Inductee

2017 Esprit de Femme Award, LSU Women's Center
2015 Lifetime Mentor Award, American Association for the Advancement of Science (AAAS)
2014 Lifetime Achievement Award, National Organization for the Professional Advancement of Black Chemists and Chemical Engineers (NOBCChE)
2013 Inaugural Dean's Visiting Scholar, College of Science, University of Cape Town, South Africa
2012 Inaugural Ronald O. Ragsdale Lecturer, Dept. of Chemistry, University of Utah
2012 Elected Fellow of the Council of Learning Assistance and Developmental Education Associations (CLADEA)
2011 Elected Fellow of AAAS
2011 Distinguished Teaching Award, College Reading and Learning Association (CRLA)
2010 Elected Fellow of ACS
2010 Awarded Lifetime Learning Center Leadership Certification by the National College Learning Center Association (NCLCA)
2008 Distinguished Alumna, Southern University Department of Chemistry
2007 Invited Speaker, ACS Presidential Symposium in Honor of Nobel Laureate Roald Hoffmann's 70th Birthday
2006 Presidential Award for Excellence in Science, Mathematics, and Engineering Mentoring (PAESMEM)
2002 Received the Outstanding Chemical Educator Award National Organization for Black Chemists and Chemical Engineers (NOBCChE)