How Fake News Could Impact the 2020 Presidential Election
By Christina Georgacopoulos and Grayce Mores | August 2020

Social media platforms and tech companies are developing tougher user policies and methods for detecting and removing fake accounts and misleading or false information ahead of the 2020 election.
Twitter and Facebook are at odds as to what role its platforms should play in our politics. Facebook and Twitter's CEOs have differed as to what free speech and First Amendment rights and protections look like on their platforms.
Twitter is arguably taking a more aggressive approach in ferreting out disinformation and protecting users. It is removing manipulated videos, flagging misleading content, and developing criteria for handling misleading or false tweets. Although Facebook has taken steps to secure its platform ahead of the 2020 election, it faces growing criticism that it is not doing enough to prevent racism, hate speech and manipulated or false media.
Here is a look at how the prominent social media companies are preparing for the 2020 election. This page will be updated according to changing policies and significant events related to how these companies are policing user and advertiser content.
Facebook
Facebook, the hot bed of Russian election interference in 2016, is taking steps to ensure the platform won't be weaponized again in 2020. In a memo released in late 2019, Facebook announced several initiatives to "better identify new threats, close vulnerabilities and reduce the spread of viral misinformation and fake accounts."
Among them are:
Combating inauthentic behavior with an updated policy on user authenticity
Protecting the accounts of candidates, elected officials and their teams through "Facebook Protect"
Making pages more transparent, which includes showing the confirmed owner of a page
Labeling state-controlled media and their Pages in the Facebook "Ad Library"
Making it easier to understand political ads, which includes a new U.S. presidential candidate spending tracker
Preventing the spread of misinformation by including clear fact-checking labels on problematic content
Fighting voter suppression and interference by banning paid ads that suggest voting is useless or that advise people not to vote
Investing $2 million to support media literacy projects to help people better understand the information they see online
Facebook Still Allows Micro-Targeting of Political Ads
In October 2019, Facebook CEO Mark Zuckerberg described the ability of ordinary people to engage in political speech online as "...a new kind of force in the world -- a Fifth Estate alongside the other power structures of society."
In stark contrast with Twitter, which prohibits political advertising, Facebook has adopted a "hands-off" policy when it comes to policing who buys political ads and what they ultimately say. The platform's approach "is grounded in Facebook's fundamental belief in free expression, respect for the democratic process and the belief that, in mature democracies with a free press, political speech is already arguably the most scrutinized speech there is," according to Facebook's head of global elections policy.
But Facebook's hands-off policy is not without controversy. In late June 2020, a growing list of companies are threatening to boycott paid advertising on Facebook and Instagram to show support for a movement called #StopHate4Profit.
Facebook faced heavy criticism in early June for allowing posts by President Trump to remain on the platform that many say were "glorifying violence" related to the George Floyd protests. Twitter attached a warning label to the controversial Tweet sent out by the president, which read "when the looting starts, the shooting starts," but Facebook said the post did not violate its rules.
The Anti-Defamation League, the NAACP, along with other organizations Sleeping Giants, Color of Change, Free Press, and Common Sense, asked "large Facebook advertisers to show they will not support a company that puts profit over safety." The six non-profit organizations' call to stop paid advertising say it is in response to "Facebook's long history of allowing racist, violent and verifiably false content to run rampant on its platform." The groups also say that the company allows its platform to be used in "widespread voter suppression efforts, using targeted disinformation aimed at black voters," and "allowed incitement of violence to protesters fighting for racial justice in American in the wake of George Floyd, Breonna Taylor, Tony McDade, Ahmaud Arbery, Rayshard Brooks, and many others.
In response, Unilever, the huge consumer products company, along with Pfizer, Ford and Coca-Cola announced they would halt advertisements on Facebook, citing growing concerns of racism and hate-speech on the platform. A spokesperson for Unilever said "there is much more to be done...in the areas of divisiveness and hate speech during this polarized election period in the U.S."
Companies like Patagonia, REI, and The North Face say they are also planning on stopping advertising in the month of July to show support for #StopHateForProfit. Zuckerberg responded that the platform would not change its advertising policy "because of a threat to a small percent of our revenue, or to any percent of our revenue." Since the campaign launched in early June, Facebook's has lost $60 billion in market value and nearly 500 companies have pledged to boycott advertising on Facebook.
Twitter
In stark contrast with Facebook, Twitter CEO Jack Dorsey announced in October 2019 that political ads are banned from its platform, saying "We believe political message reach should be earned, not bought." He added that "Internet political ads present entirely new challenges to civic discourse: machine learning-based optimization of messaging and micro-targeting, unchecked misleading information, and deep fakes."

In early February 2020, Twitter announced new rules addressing deepfakes and other forms of synthetic and manipulated media. Twitter will not allow users to "deceptively share synthetic or manipulated media that are likely to cause harm," and will start labeling tweets containing synthetic or manipulated content to provide more context.

Twitter is using three criteria to consider Tweets and media for labeling or removal:

Source: Twitter
In late 2019, Twitter threatened to hide tweets of world leaders behind a warning label if their messages incited harassment or violence. Twitter also said it would mark tweets containing misinformation with labels that link to sites with reputable information.
For the first time in late May 2020, Twitter added links on two of President Trump's tweets, urging Twitter users to "get the facts." The added links to Trump's tweets came after years of pressure on Twitter over its inaction on the president's false or threatening posts. But some are criticizing Twitter for what appears to be a lack of consistency in enforcing its policies. Twitter flagged two of Trump's tweets that contained inaccuracies about mail-in ballots, claiming there is no way "that Mail-In Ballots will be anything less than substantially fraudulent." Previously, Twitter stated Trump's tweets did not violate the platform's terms of service.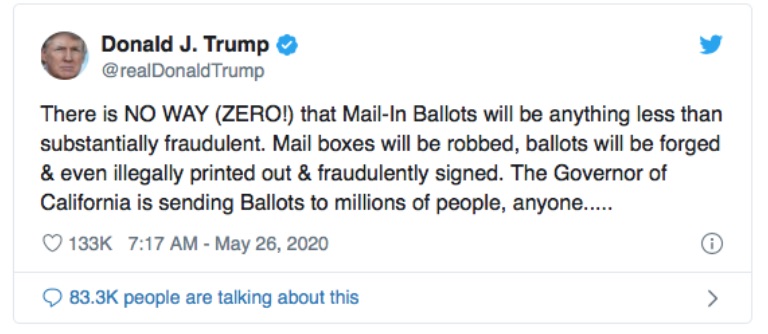 Source: Twitter
Twitter and Facebook acted in solidarity in June 2020 to remove a doctored video posted by President Trump that showed two toddlers, one white, one Black, running down a sidewalk with a fake CNN headline that read: "Terrified toddler runs from racist baby." Facebook removed the video over a copyright complaint, which eventually prompted its removal on Twitter. However, initially Twitter took a stronger, more pointed stance by labeling the video manipulated media per its policy.
The platforms removed the deceptive footage after a copyright complaint from one of the children's parents, according to a CNN report. Trump used the video, which went viral last year, to suggest CNN had manipulated the context of the video to stoke racial tensions.
More Background on Information Warfare
The Cybersecurity and Infrastructure Security Agency (CISA) and Department of Homeland Security plan to work with local and state election officials, political campaigns and political parties to identify potential vulnerabilities to election infrastructure ahead of the 2020 election. The goal is to improve communications and security of voting infrastructure ahead of the election.
Data scientists from Guardians.ai, who work to disrupt cyberattacks and protect pro-democracy groups from information warfare, found that small clusters of accounts posting extreme or damaging messages were amplified by a broader group of accounts. These accounts "drove a disproportionate amount of the Twitter conversation about the four candidates over a recent 30-day period."
This new style of information warfare represents a movement away from large numbers of easily detected fake accounts, but "centers on a refined group of core accounts" that are "highly sophisticated synthetic accounts operated by people attempting to influence conversations, while others are coordinated in some way by actors who have identified real individuals already tweeting out a desired message." Fringe sites, like Reddit and 4chan have seen calls to action asking members to "quietly wreak havoc against (Sen. Elizabeth) Warren on social media or in the comments under news stories." Guardians.ai has had difficulty tracing the source of these accounts. The article concludes that "the proliferation of fake news, rapidly changing techniques by malicious actors and an underprepared field of Democratic candidates could make for a volatile primary election season."
Trump To Limit Social Media Legal Protections
President Trump signed an executive order on May 28 to limit the broad legal protections afforded to social media companies. The order states that the "growth of online platforms in recent years raises important questions about applying the ideals of the First Amendment to modern communications technology." When presenting the order, Trump said a "small handful of powerful social media monopolies control the vast portion of all private and public communications in the United States."
The order takes aim at a 1996 law passed by Congress that protects internet companies from lawsuits over content that appears on their platforms. Overturning 25 years of judicial precedent by revoking section 230 of the Communications Decency Act will end liability protections for social media platforms and make them responsible for the speech of billions of users around the world post on the sites.
Section 230 states that "No provider or user of an interactive computer service shall be treated as the publisher or speaker of any information provided by another information content provider" (47 U.S.C. § 230). Essentially, Section 230 protects social media platforms from objectionable speech posted by its users because online intermediaries of speech are not considered publishers.
Legal experts describe the executive order as "political theater," and that it does not change existing law and will have no bearing on federal courts.
Twitter CEO Jack Dorsey responded to Trump's regulation threats, saying "Our intention is to connect the dots of conflicting statements and show the information in dispute so people can judge for themselves. More transparency from us is critical so folks can clearly see the why behind our actions."
In contrast, Facebook CEO Mark Zuckerberg responded that social media companies should stay out of fact checking, saying that "private companies probably shouldn't be… in the position of doing that." Facebook refrains from removing content because, according to Zuckerberg, "our position is that we should enable as much expression as possible unless it will cause imminent risk of specific harms or dangers spelled out in clear policies."
In a move that echoes President Trump's executive order, the Justice Department announced it is proposing legislation to curtail legal protections for social media platforms for the content that appears on their sites. The proposal is said to "update the outdated immunity for online platforms," and incentive platforms to act responsibly. The department's recommendations fall into three general categories:
provide online platforms incentives to address illicit content;
clarify federal powers to address unlawful content;
and promote open discourse and greater transparency
Read more about the debate surrounding Section 230 and the Communications Decency Act here.
For more resources and articles on the future of election interference visit our resources pages.
To learn how to spot fake news visit our "Protect Yourself" page.